This Wednesday, July 15 at 1 PM EST, in my role as the Serenit E. Now Foundation Chair of Business Law and Ethics at the Yada Yada Law School, I will be conducting a class on Seinfeld Business Law. This fake law school based on a show about nothing is free and for benefit of the Covid Relief efforts at Legal Services NYC. I will attempt to give a 40 minute survey of all aspects of business entities law, from the basics of business entities, agency, fiduciary duties, partnerships, and corporations–all through the lens of Seinfeld episodes. We'll discuss The Stock Tip, The Nap, The Wig Master, The Muffin Tops, The Voice, and The Chicken Roaster. More details on the suggested reading is found here. Sign up here for Zoom links, follow us on Twitter here, join our Facebook group here, and watch our YouTube channel here. If you aren't able to make it, you can watch the class later on YouTube, and I hope that you will donate to this worthy cause.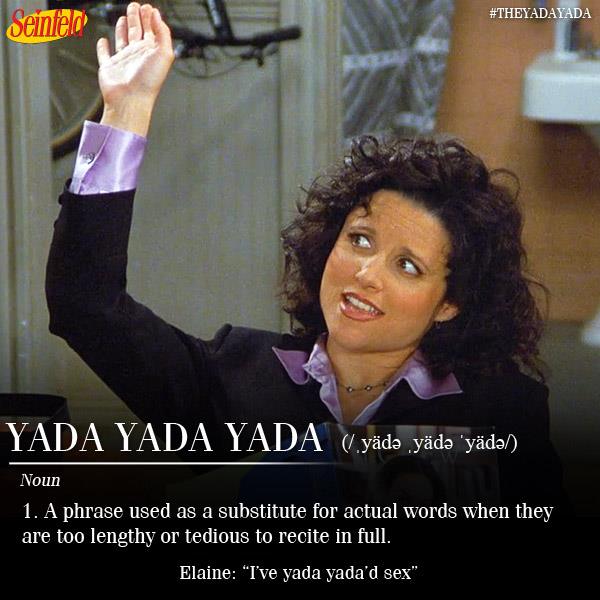 There's been a lot of press about the course, including this article about my class found in Houston Culture Map.
We are also hosting a special event On Thursday, July 16, 2020, at 5pm ET, Yada Yada Law School will be hosting a live online event with TV historian Jennifer Keishin Armstrong, author of the New York Times bestselling book Seinfeldia: How a Show About Nothing Changed Everything. In this hour-long session, Jennifer will walk us through the behind-the-scenes story of Seinfeld's success. The show pulled off an unusual combination of feats during its dominant 1990s run on NBC. It was regarded as quirky and hip, but with tens of millions of viewers it was also a mainstream blockbuster. It explored edgy subjects, but in a way acceptable on network television. It was almost canceled at least twice, but went on to run for nine years and change television comedy forever. Following her presentation, Jennifer will take Q&A. Then a raffle will be held for five copies of Seinfeldia to be signed and annotated by the author. Each prize winner will receive their book by mail (50 US states and DC only). Only those meeting the donation criteria (see next paragraph) are eligible to participate.
Here's a preview of what I will be presenting tomorrow: